Hello again, people from this world. Today I'm going to be posting a review about...*drumroll*

THE SELECTION SERIES!!!!
I just adore these books so much, you just don't even
know
! Seriously, the fifth book,
The Crown
, is coming out in May and I CAN'T POSSIBLY WAIT!!! Anyway, I need to keep on track. The reason I love these books is because the plot centers around romance and finding your true love, but it is so much more than just that. Kiera Cass surprised all of us by releasing
The Heir
this year, and we all thought that this series was merely a trilogy, but we got lucky! XD Anywho, here is a short summary of
The Selection
(the first book) from
Kiera Cass's website
:
"For thirty-five girls, the Selection is the chance of a lifetime. The opportunity to escape the life laid out for them since birth. To be swept up in a world of glittering gowns and priceless jewels. To live in the palace and compete for the heart of the gorgeous Prince Maxon.
But for America Singer, being Selected is a nightmare. It means turning her back on her secret love with Aspen, who is a caste below her. Then America meets Prince Maxon. Gradually, she starts to question all the plans she's made for herself—and realizes that the life she's always dreamed of may not compare to a future she never imagined."
Like always, I just must include some quotes from this amazing series!
I give this series...
As I stated before,
The Crown
is coming out May 3rd, I believe.
Also, I ordered
Happily Ever After
on Amazon, so I should be getting it soon.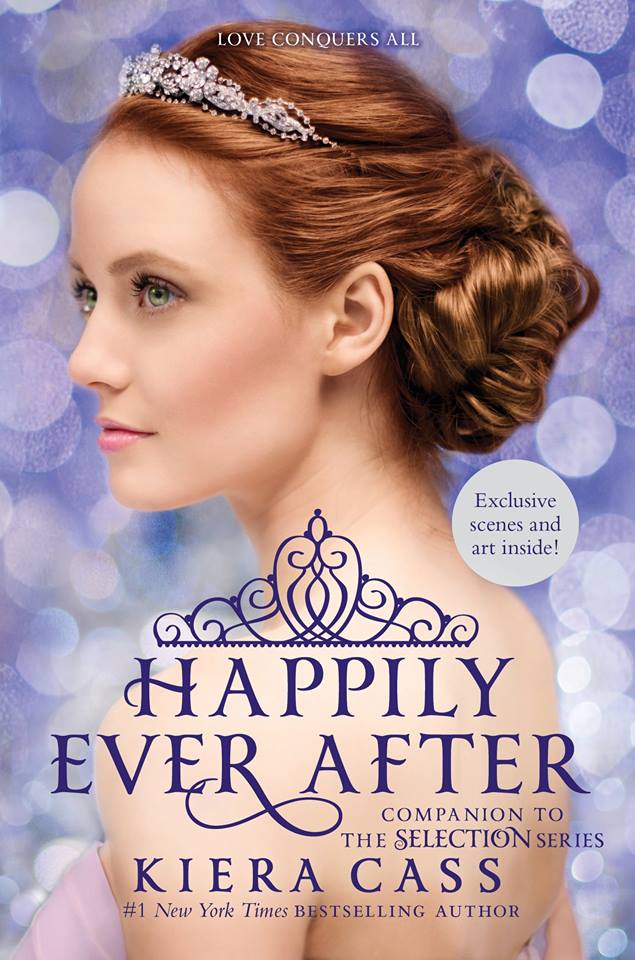 What
Happily Ever After
is, you might wonder, a collection of novellas about Prince Maxon, Queen Amberly, etc. I can't wait to read it! Have any of you read it? How amazing is it really?
Anyway, I should probably wrap this up saying: You should definitely look into finding these books to read them so you can be prepared to read
The Crown
!