Hello again peeps! Today I'm doing a review on my favorite book series EVER!!! So bear with me, because it's gonna get a little cray-cray, if you know what I mean. ;)
If you guys haven't noticed that I now have music at the top of the page, then you have now! Those are my favorite songs based on books, and my FAVORITE is the first song called "Fire and Ice" by Olivia Bray. Can you guess what books that song is based on? Yep, it's based on The Infernal Devices. ;P Just FYI, here is the list of songs and also what books they are based on:
~"Fire and Ice" by Olivia Bray is based on TID (The Infernal Devices)
~"Warrior" by Beth Crowley is based on TMI (The Mortal Instruments)
~"Midnight" by Beth Crowley is based on The Lunar Chronicles
~"How it Ends" by Beth Crowley is based on
City of Lost Souls
in TMI.
~"Come Alive" by Beth Crowley is based on
City of Heavenly Fire
in TMI.
So yeah, there you go! If there is any other book-based songs that you love, go ahead and comment! I'd definitely add it onto the list of songs! (As long as it's appropriate.)
Anyway, I should probably get back to the review! LOL! XP
I love The Infernal Devices because Cassandra Clare develops her characters so well! Plus, my fictional boyfriend, James Carstairs, is in it, so...that definitely gives it some awesomeness! Also, it takes place in the Victorian Era, in London. You probably want to know what it is ABOUT, so here is the (short) summary that I am getting off of Wikipedia.
"The series follows Tessa Gray, an orphaned teenage girl who discovers she has the power to shapeshift, but doesn't bear a mark that shows she is a warlock, and abilities that plunge her into a world she never knew existed. She will have to learn to master them if she wants to find her brother Nate and she will have to forge an alliance with Shadowhunters if she wants to survive in this dangerous world.
The trilogy features Will Herondale, James (Jem) Carstairs, Theresa (Tessa) Gray, and other Downworlders and Shadowhunters in the London Institute."
Below are some of my favorite quotes from this series: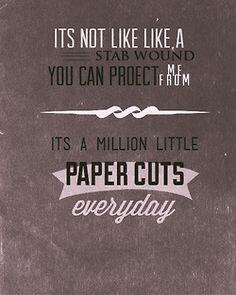 Okay, I need to stop. Otherwise, I'll be posting all the quotes and then you guys won't even need to read it! LOL!
Now, some pictures! LOL!